Blessing Hands Newsletter

Our First Students are Graduating From College
Marya in 2006
I recently got this letter from Marya Zhang 张菊 from Yangshuo. She wrote to tell me she is graduating from college this spring after being one of our students since middle school. I was touched by her letter and want to share it with you.
Marya
"I write to you today to give thanks for helping me these years. The help is not just the money, but the warmth. Every time I think that there is someone who cares for me at a distance, it means so much to me. I believe even many years later, and no matter how I live a life, I will remember this warmth forever. But the most words I want to say is thank you for treating me as a special one. In the ocean of crowds, you chose me to help, and we have developed a relationship for 10 years. I think it's the most amazing thing, and I cherish it so much."
Marya has caught our vision that people are special and to be treasured. Blessing Hands wants to set an example of the value of each person and encourage them to value the lives of others.
I will never forget her either. We have helped over 1000 students, but those first students are still very special to me. Marya has a degree in International Trade from Guangxi University of Nationalities.
Sincerely,

Betty Cutts
Summer Trip Plans with many Volunteers
Water Purifier Team Volunteers
I will be traveling with the East Oldham Water Purifier group again to Yangshuo in June. Five of the school's teachers and staff will be putting in 5 water purifiers in primary schools in Yangshuo. The Gao family will also be sending a Chinese purifier team from their construction company in Kunming. They usually bring piping and faucets.
Eddy Wu from Hong Kong will also join them. Eddy has a goal of manufacturing purifiers for poor schools all over China. He is a trained engineer and a former manager of a water purification factory that made purifiers for use in Western homes. In his retirement, he wants to help more rural students have clean water.
Shao Tongchong with a Shenfu Student
In the Guanzhou County of the Guilin Prefecture, Shao Tongchong will take us to see the students at Shenfu Primary School that she helps us sponsor.
Sponsors and volunteers will join us in Liuzhou on
July 2nd
to see our new program there. Tina Qin has done a great job of helping 12 special students there. We will take two days and visit homes and schools in Wuxuan area.
Students in Wuxuan with Tina Qin
After being in Nanning for
Sunday
the 5th scholarship dinner, on
July 6th
we will go to Du'an County where Dr. Dai helps us give school supplies to remote Yao minority primary schools and sponsor health assistants at those schools. I am looking forward to seeing Wei Senbao and his four cousins being raised by their grandmother. He is doing very well, and his scar is not noticeable. I am so glad we helped him overcome his birth defect. We also help other poor families in Longfu Township with Dr. Dai's help.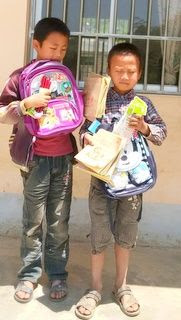 Wei Senbao and his cousin Senyan with school supplies
We will also visit the Du'an Special Education School to dedicate 18 computers supporters have given to the school. We promised 42 when we visited last year. If you would like to help buy more computers for this school to help the handicapped students have occupational therapy, you can give here. Each desktop computer cost about $500, but you can give any amount on our website.
Give any amount for a computer
.
We will visit Qinzhou where we have 160 high school students who need tuition support. We are planning to emphasize 3 hours of volunteer work for high school students each semester like we have always done for the college scholarship students. Pan Yanlin is an orphan, but her outgoing attitude shows through. I am including part of a recent letter from her. She has caught the idea of being a blessing hand to others.
Pan Yanlin with Betty Cutts
"Today, I went to the hospital to do some social work. I helped the people who came there for the first time. They don't know where they should go and what they should do before healing. They said I'm was so friendly and perfect. They said ."Thank you very much; What a great girl!" I am so happy too that I can help others who need help. I enjoy helping. Doing something simple for others is my pleasure."
Finally we will visit with some of the 30 new Miao minority children we support near Kunming in Yunnan. Wang Huizhong 王会忠 is our volunteer administrator there. We hope a new sponsor will be able to visit some of the students they support and see their need and way of life.
Long Yalin's father receives his school aid. Click to see more.
Kayla Mitchell, a college student at Morehead State University, will be traveling with us. Matthew Liu will also accompany us. Other friends, volunteers, and former visiting scholars will help us along the way. Blessing Hands has developed a big family. You can see some of our volunteers on our
pinterest board.
We know that we could never bless all these families and children without your support. Thank you for your generosity.
Qin Xiaoping Asks for High School Tuition
Guilin Student Seeks Help
This student is in her last year of high school next year. She wants to finish high school, but her family has many expenses and problems. She wrote her story to ask for your help.
Qin Xiaoping
About My Family
My name is Qin Xiaoping. I am from a poor family living in a remote rural area. I keep good grades and honor my parents. Both of my parents are in poor health. My granny, who is eighty-two this year, is paralyzed, and can't take care of herself. Another member of my family, my uncle, is a cripple, who is too clumsy to do hard work. My older sister, who is 5 years older than me, is more mature than her age. She had to drop out of school owing to my schooling. Therefore, I want to greet you, who are unknown to me. Thanks for extending your hands to those who are in need!
Life for my family was peaceful at one time, but it didn't last long. My Mom suffered a kind of disease from mold before I was born. Fortunately, both I and my Mom were safe when I was born. My Mom went to work in the fields shortly after my birth. I tried to do what I could to help relieve the burden on my parents from my earliest childhood. I realized this could change little for my family, but it was my instinct to behave, even though we were not blessed enough in our family. My Mom got a kidney stone in 2008. We went borrowing money up and down from our kinfolks, and the surgery was done at last. One day I went to the hospital. I wanted to have a look at my Mom. I could see nobody in the ward in the hospital. When I lifted the bed sheets, I was terrified that my Mom had gotten so thin. She was such a tiny figure there in the bed. She was too weak to speak to me! Tears came to my eyes, and the pain stuck through my whole body.
Unlucky accidents came upon our family one after another. One year later, my mother was diagnosed with diabetes. Heaven just made a joke on our family. How can disaster strike my mother once again? Thus all the burden was loaded on the shoulders of my father, and his hair turned gray overnight. From then on my older sister left home to take a temporary job for the family. I knew all this was done for me. She laid all her dreams upon me.
The year I finished my junior middle school, my granny fell over and was hurt. She had to be hospitalized for a while. After leaving the hospital, she could barely walk and talk to people. I could only bury all of the pain deep in my heart. Last year my Mom suddenly had a high fever and had to be hospitalized for over one month, which cost us over ten thousand yuan. We don't even know what kind of disease it is. We went from one hospital to another. One day as I pushed my Mom in a wheelchair, she vomited a kind of yellow saliva abruptly. I could do nothing but cried for this bitter circumstance. I just dream of breaking through this predicament and building a peaceful place for members of my family. I want to repay them for their sacrifice for me!
A swaying bell needs wind and flowers need green leaves. I need a pair of wings. If I am offered wings, I want to fly high into the sky. I want to fly over the mountains, and I want to protect my family with my matured wings, and I dedicate myself to my country as well!
Sincerely yours,
Qin Xiaoping
Class 186, Grade 2, Daxu High School
Please sponsor Xiaoping for $180 a year. You can give $90 per semester. You can be the answer to her problems.
Become Xiaoping's Sponsor
Our immediate goal is to improve the lives of Chinese students and keep them in school. Our larger goal is to grow our own

charitable

force that can take loving and caring for others wherever they go for the rest of their lives. We want them not just to become rich and prosperous, but to become kind and loving to those who are suffering as they once did.



Betty Cutts - Founder/Director
Blessing Hands
106 Timber Lane
Morehead, KY 40351
606 207 4785